Carus Animal Health and Fixed Phage to collaborate on anti-bacterial solutions to companion animal diseases
Published Monday, 23rd March 2020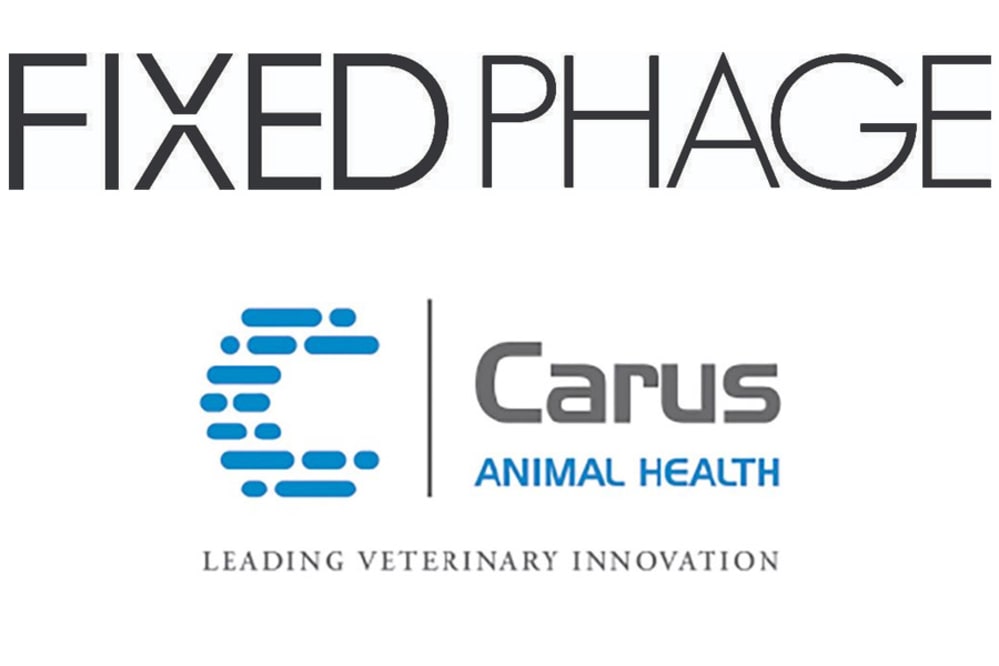 Carus Animal Health and British biotechnology company, Fixed Phage, have agreed a strategic collaboration in the companion animal field to identify, develop and commercialise stable and specific bacteriophages and their application through its patented technology.
The focus of the new arrangement will be the use of Fixed Phage technology which provides the opportunity to deploy bacteriophages, natural anti-bacterials in stable, commercially-relevant formulations. Bacteriophages normally lack stability and robustness when used for therapeutic interventions, however the Fixed Phage technology provides robust delivery and efficacy.
Fixed Phage has long-standing expertise in the deployment of bacteriophages within a wide range of fields, from food packaging/freshness to agriculture and aquaculture, with a roadmap into human health and wellbeing. The Fixed Phage technology allows bacteriophages to be irreversibly attached to surfaces, localising them where they can work efficiently, as well as stabilising them, increasing their active life from days/weeks to months/years.
Carus and Fixed Phage have committed to developing a range of products with the potential for global application designed to prevent and treat diseases in companion animals and reduce the need for antibiotics.
Jolian Howell, Chief Commercial Officer at Carus Animal Health, said: "Together with Fixed Phage, we have undertaken a comprehensive review of the potential for bacteriophages to improve health and wellbeing for companion animals. We have subsequently short-listed several opportunities to provide valuable interventions in this field. The growing emergence of bacterial resistance to antibiotics means that there is an increasing demand for alternative treatments."
The companies' first two projects will focus on developing interventions for zootechnical dermatological conditions and proactive interventions against periodontal disease in dogs.
David Browning, Chief Executive Officer at Fixed Phage, stated: "Our technology addresses bacterial challenges across animal health, replacing antibiotics and chemicals to support healthier livestock and companion animals. Dermatological conditions, such as pyoderma, represent one of the leading reasons for owners to bring their dog to the vet. In addition, early plaque formation caused by several species of bacteria can lead to periodontal disease, which affects the majority of dogs by two years of age. 1
"Both conditions can be distressing and painful to the dog and a burden on their owners, both from the perspective of their pet suffering and treatment costs. Working with Carus we plan to develop and bring to market effective, cost-efficient solutions that help relieve the burden on owners and improve the dogs' quality of life."
Notes to editors:
Carus Animal Health is based in the UK and was established in June 2017. Backed by its parent company, Kyoritsu Seiyaku, which is the largest distributor of animal health products in Japan. Carus is focused on identifying and developing novel technologies which have application in animal health, with a particular emphasis on improving standards of care for companion animals by early access and development of cutting-edge innovation.
https://www.carusanimalhealth.com/
Fixed Phage is a biotechnology company developing and commercialising unique, patented, anti-infective technologies based on bacteriophage immobilisation and stabilisation. It is in possession of a uniquely deployed, well-proven and comprehensively patented surface modification method using a corona discharge technology, which leads to covalently bonded (immobilised) particles. Fixed Phage Technology enables bacteriophages to be immobilised on many, diverse, carrier materials, thereby producing biologically active, antimicrobial surfaces.
https://www.fixedphage.com/
For further information contact:
Jolian Howell
Chief Commercial Officer
Carus Animal Health
+44 (0)7921 516 286
Jolian.howell@carusanimalhealth.com
Mike Keeler
Garnett Keeler PR
+44 (0)20 8647 4467
mike.keeler@garnettkeeler.com

1 PLoS One 2018; 13(1): e0191395. A cross-sectional study to estimate prevalence of periodontal disease in a population of dogs (Canis familiaris) in commercial breeding facilities in Indiana and Illinois